Samsung 840 EVO Series – The Must-Have Upgrade to Significantly Enhance Your Everyday PC Experience
More Speed – Faster Performance for Everyday Use
840 EVO is significantly faster than a standard HDD, providing more rapid sequential and random read and write times for every task. Samsung's new 3-bit MLC NAND flash memory stores data more efficiently, increasing both speed and reliability. Whether it's a heavy workload like video file editing or a simple task like a virus scan, 840 EVO runs every job smoothly and quickly. Multitasking is a simple job for this SSD, which can operate several tasks simultaneously nearly three times faster than an HDD.
Optimized to improve everyday PC productivity, including web-browsing, email, multimedia and gaming
Enables you to boot up your computer in as little as 15 seconds
Samsung's TurboWrite write acceleration technology provides significantly faster sequential write performance
Superior multi-tasking performance with 5th-generation 3-Core Samsung MEX Controller
Samsung RAPID technology boosts overall PC performance by using idle DRAM as an ultra-fast buffer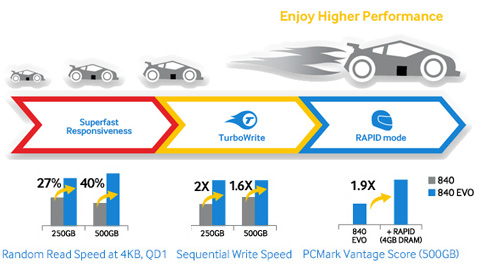 More Reliable – Proven Quality and Trusted Reliability
Ultra energy efficient – improves battery life by up to 50 minutes**
Solid-state design provides greater shock protection for data and the brushed metal case blocks dust and corrosion
Worry-free data security with AES 256-bit full-disk encryption
100 Percent genuine Samsung memory components from the #1 memory manufacturer in the world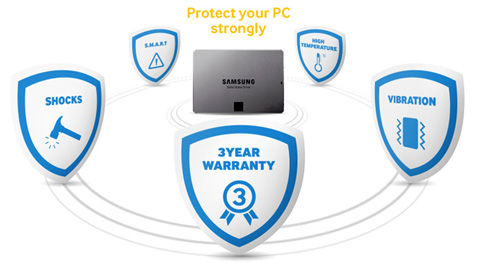 Much Easier – Easier-Than-Ever Upgrade Tools
Easier-than-ever upgrade tools – including One-Stop Install Navigator, a comprehensive guide for software setup, data migration process and hardware installation
Samsung Data Migration simply and safely migrates your existing data to your new SSD – making the installation process as smooth as possible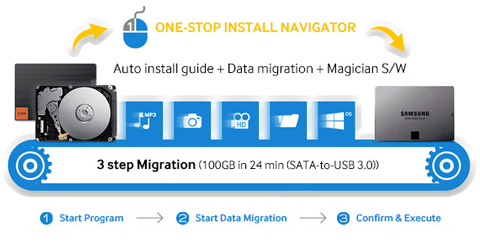 Integrated Solution Combining Top-Quality Components
Just as delectable dishes are made from the best ingredients, Samsung combines the finest components to create superior-quality SSDs. Samsung uses the best quality NAND flash memory chips from its own fabrication lines for SSDs. Only the chips with the highest quality, top performance and greatest longevity potential are selected for SSDs, the most demanding of memory applications. With all the components, including controllers and DRAM, produced by Samsung, the quality of your SSD is assured. Advanced new firmware that optimizes how the components go together enables Samsung to serve up the right combination for your PC's best performance and reliability.

*Optional (enabled with Samsung SSD Magician)
**with DIPM enabled vs. HDD
Specifications
Model
MZ-7TE120BW
MZ-7TE250BW
MZ-7TE500BW
MZ-7TE750BW
MZ-7TE1T0BW
Capacity
120GB
250GB
500GB
750GB
1TB
Sustained Sequential Read
540MBps
540MBps
540MBps
540MBps
540MBps
Sustained Sequential Write
410MBps
520MBps
520MBps
520MBps
520MBps
4KB Random Read
Up to 94,000 IOPS
Up to 97,000 IOPS
Up to 98,000 IOPS
Up to 98,000 IOPS
Up to 98,000 IOPS
4KB Random Write
Up to 35,000 IOPS
Up to 66,000 IOPS
Up to 90,000 IOPS
Up to 90,000 IOPS
Up to 90,000 IOPS
MTBF
1,500,000 Hours
Dimensions (mm)
100.08 x 69.85 x 7.11
Weight
0.12lbs